crop.zone and John Deere win DLG-Agrifuture-Concept 2023 for Dual.Volt.24M
The Aachen-based company crop.zone, a pioneer in herbicide-free desiccation and plant control, has won the DLG-Agrifuture prize with John Deere.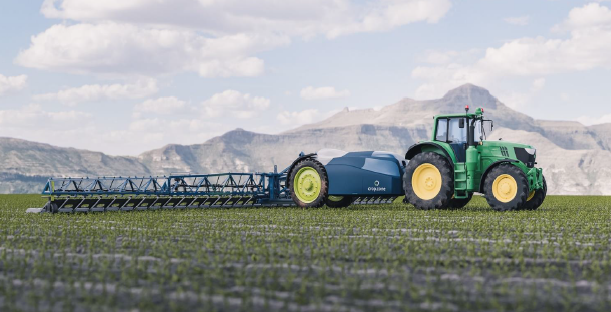 The Dual.Volt.24M system has been awarded for its use in electric, systemic, and herbicide-free plant care, covering a working width of 24 meters. The innovative technology and the approach to creating sustainable agricultural solutions led to its nomination a few weeks ago. The award ceremony will take place on Tuesday, November 14th, from 12 to 1 p.m. at the DLG booth, Hall 24, Stand A06, at AGRITECHNICA in Hanover.
"We are pleased to offer professional farmers an even faster and optimized solution for herbicide-free desiccation in the future. In collaboration with John Deere, one of the leading manufacturers of agricultural equipment, we have managed to double the working width, enabling faster and more precise crop management."

Dirk Vandenhirtz, CEO of crop.zone
"The Agrifuture award is a truly special distinction that encourages us to continually develop the crop.zone systems in collaboration with our customers and sales partners, tailoring them to their specific needs. This award reaffirms and underscores our leading position in the field of electric crop management in Europe."

Christian Kohler, Chief Commercial Officer (CCO) of crop.zone
The unique feature of the Dual.Volt.24M is its innovative applicators, which can be adjusted for full-surface application, combined with the integrated, camera-controlled row application system. This guarantees electric, systemic, and herbicide-free plant care over a working width of 24 meters without disturbing the soil. This is complemented by a fully integrated sprayer, enabling both targeted area-specific application in a single operation and combination treatments that are effective and sustainable. The development of the new Dual.Volt.24M system, along with its nomination and being shortlisted as a potential award winner, underscores the commitment of crop.zone and John Deere to revolutionize and lead the way towards a more sustainable Agtech sector. In 2024, crop.zone will commence active pilot series testing directly with professional farmers.
Interested parties are welcome to contact crop.zone at +49 (0) 24 08 / 59 80 342 or simply stop by at Agritechnica in Hall 25