Visit of the German Minister of Agriculture Cem Özdemir at crop.zone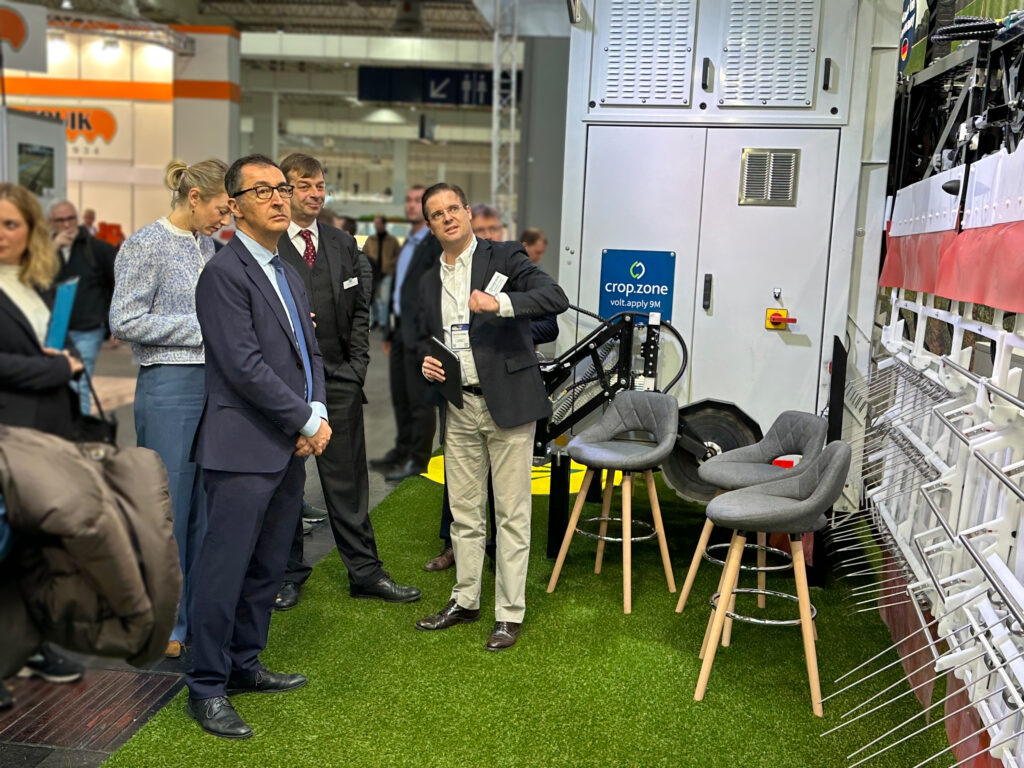 Innovative Alternatives to Glyphosate: crop.zone Presents Cutting-Edge Technology at AGRITECHNICA 2023 (Hall 25 H23)
Hannover, Germany – Today, crop.zone had the honor of welcoming the German Minister of Agriculture, Cem Özdemir, to their booth at AGRITECHNICA. He showed great interest in sustainable alternatives to glyphosate and was impressed by the innovative solution that crop.zone offers.
Revolution in Plant Control: crop.zone's Hybrid Herbicide Technology
crop.zone's technology, the Hybrid Herbicide Technology, represents a revolutionary advancement in plant control. It combines the high performance of Volt.Cube, the enormous working widths of Volt.Apply, and the efficiency of Volt.Fuels to provide an effective and environmentally friendly alternative to traditional desiccation methods. This technology allows for the gentle, rapid, and efficient elimination of plant stocks, ranging from desiccation for harvest preparation to weed control.
Sustainability and Efficiency: Key Points of crop.zone Technology
The process begins with the generation of electric power in the Volt.Cube, which is powered by a power take-off (PTO) generator. This power, which can reach voltages of 1000 to 5500 V, is then channeled through specially designed applicators (Volt.Apply). Plants are first treated with the residue-free liquid Volt.Fuel to increase their conductivity. Subsequently, the electric current passes through the plants, severely disrupting their water supply, causing them to dry out and die.
Forward-Looking Agriculture: Minister Özdemir Impressed by crop.zone
Minister Özdemir was particularly impressed by the efficiency and sustainability of crop.zone's technology. The ability to ensure residue-free plant control that is both environmentally friendly and effective represents a significant advancement in precision agriculture. crop.zone is proud to offer such an innovative solution that not only conserves the environment but also helps farmers secure their harvests at competitive prices.
Closing Remarks: A Step Toward Sustainable Agriculture
The Minister's visit underscores the importance and potential of crop.zone's technology as a forward-looking alternative to conventional pesticides. crop.zone looks forward to further developing this technology and making a positive contribution to sustainable agriculture.